Cleaning with pure water technology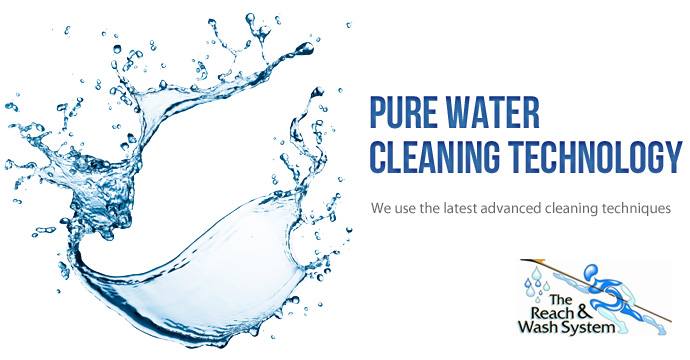 Why we use pure water technology?
Pure water technology is suitable for both business and residential/domestic window cleaning applications, resulting in cleaner windows for longer. Usually water contains impurities which it has absorbed from its surroundings but by passing fresh water through our purification system those impurities are removed. So, how does it work? Well, the pure water will now readily absorb impurities it comes into contact with – so as it runs down windows or other surfaces it absorbs dirt that builds up from the environment.
Also because no chemicals or detergents are used in normal use, we can use the system to clean window frames, fascia, canopies, PVC and other materials that previously may have been discoloured or damaged by chemicals.
We've found the Reach and Wash™ pure water system to be so effective over the years and we know you will to.
Purified water cleans with greater efficiency.
Cleans frames as well as glass.
Cleans Atria, Paneling, Canopies, Fascia and PVC.
Complies with health and safety legislation.
Operators work from the safety of the ground.
Eliminates most needs for ladders and high access equipment.
Reduces expensive access costs.
Eliminates damage to buildings from ladders.
Reduces disturbance.
Maintains privacy.
Environmentally friendly, no detergents or chemicals are used.
No detergent residue means that windows stay cleaner for longer.
Reaches previously inaccessible windows with ease.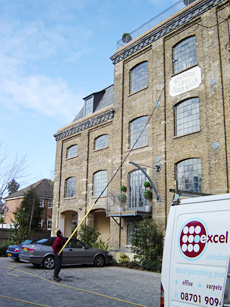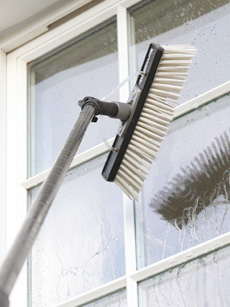 At Excel we use the Reach and Wash™ system to deliver pure water through a hose and pole system. Our system allows us to operate at up to 200m from our vehicle and the telescopic poles can deliver the cleaning efficiency of pure water up to a height of 70ft.