We use the latest Gutter Vac technology for gutter cleaning in Bishop's Stortford.
Modern gutter cleaning equipment has made it quicker and easier to keep your gutters clear of debris which can lead to blocked drains and leaking gutters.
So if you need your gutters cleaned in Bishop's Storford please call us on 0800 955 2330 or e-mail info@excelclean.co.uk
Our Gutter Cleaning Service for Bishop's Stortford
Latest vacuum technology to inspect and clear gutters from the ground.
Reaches up to 52ft high.
Eliminates most needs for ladders and high access equipment when cleaning guttering.
Gutter clearing Operators work from the safety of the ground.
Reaches previously inaccessible areas.
This method of gutter cleaning is environmentally friendly.
Reduced disturbance and maintenance privacy.
Ladderless wireless camera survey inspections and recordings of gutter condition for buildings in Bishop's Stortford and surrounding areas.
Complies with health and safety legislation.
If you are responsible for properties in the Bishop's Stortford area we recommend gutter cleaning on an annual basis to prevent blockages or backing up. Avoiding overspills, flooding and subsequent expensive damage to external and internal walls, decorations, furnishings and carpets.
Note that insurance companies may decline to settle claims resulting from blocked or damaged guttering if it has not been properly maintained.
Our Gutter Vac and wireless camera survey system reaches heights of 52ft (4-5 floors). The Gutter Vac system is a self contained unit with 4200 watt motors producing exceptional suction. It remains the fastest, safest and most cost effective method available for clearing gutters.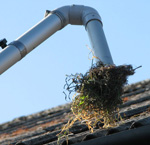 Excel Cleaning Services' professional vacuum system quickly and easily unblocks low level and high rise guttering and our unique separate jetting system attached to a power pole will make light work of any truly blocked down pipes. all work comes guaranteed.
The same system has various attachments to reach and clean all kinds of situations including high level internal vacuum cleaning of beams, atria, RSJ's and piping.
Our quotations are worked out by height and priced per meter (normally the distance between the gutters mounting brackets, oro the length along the base of the building can be measured).
If you are not sure whether your gutters need clearing our team are based near Bishop's Stortford and are happy to provide advice. Our wireless camera survey system is available if requested to inspect your guttering. Prices for the camera inspection service are based on a call out charge and a rate per hour spent thereafter.
For fast gutter cleaning in and around Bishop's Stortford call the professionals – Excel Cleaning Services on 0800 955 2930