Excel Cleaning Services is a family run business providing window cleaning in the Hertford area. We have a reputation as a reliable window cleaning service in your area since 1994.
We cover all aspects of window cleaning from homes and small shop fronts to high rise buildings. Combining conventional methods with a pure water system enables us to provide the best solution to various window cleaning situations in Hertford. The pure water technology is suitable for both business and residential/domestic window cleaning applications, resulting in cleaner windows for longer.
Our fully trained and certified window cleaners are regularly in the Hertford area, so giving you a quote is no problem – just call us on 0800 955 2930 or email [mailto]info@excelclean.co.uk[/mailto]. If you would like to comply with Health & Safety legislation, we can provide advice and highest level of window cleaning to your requirements using the latest technology available.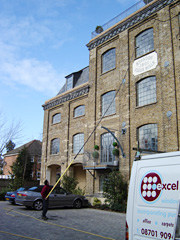 Why use pure water technology for cleaning windows?
[checklist]
Purified water cleans with greater efficiency.
Cleans frames as well as glass.
Cleans Atria, Paneling, Canopies, Fascia and PVC.
Complies with health and safety legislation.
Operators work from the safety of the ground.
Eliminates most needs for ladders and high access equipment.
Reduces expensive access costs.
Eliminates damage to buildings from ladders.
Reduces disturbance.
Maintains privacy.
Environmentally friendly, no detergents or chemicals are used.
No detergent residue means that windows stay cleaner for longer.
Reaches previously inaccessible windows with ease.
[/checklist]
Our team of window cleaners are regularly around Hertford
If you need reliable residential, business or office window cleaning in or around Hertford please contact us and one of our window cleaning team will be pleased to provide a free quotation. Please remember that we also specialise in high rise access and difficult access situations where traditional window cleaning methods may fail our pure water window cleaning system has the advantage in Hertford.
If you need window cleaning services in the Hertford area call us on 0800 955 2930